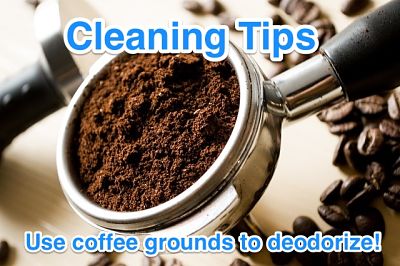 Cleaning Tips: Use Coffee Grounds to Deodorize
I love my morning cup of coffee! Who doesn't?!
The aroma, the smooth taste, holding the hot mug in the palm of your hand… aaah.
Well, your morning cup of Joe just got better! Did you know coffee is an excellent deodorizer? Coffee actually absorbs odors. It's not just a cover-up, though it smells amazing :)
If you want to deodorize your refrigerator, try this:
Brew a lovely pot of coffee
Drink a lovely mug of coffee
Put the leftover coffee grounds in a bowl
Place the bowl in the fridge for one week at a time
Replace bowl with freshly used grounds every week
Over time, you will notice that foul smells will disappear. Plus! Your fridge will have a faint coffee smell too it. Win-win!
Other House Cleaning Uses for Coffee
Did you know that coffee can actually clean out your drains? Simply run hot water and drop a little bit of coffee into your drain. Coffee is abrasive and can help scrape the insides of a clogged pipe clean! What's a clean house without clean drains?
Here's one you won't believe! Coffee is an exfoliator. Rub some used coffee grounds into a bar of soap and then wash. The coffee grounds will exfoliate your skin. Isn't that amazing?
Want more cleaning tips for your Overland Park home? Stay tuned.
http://sunflowermaids.com/wp-content/uploads/2016/10/Sunflower-Maids_340w.png
0
0
Sunflower Maids Team
http://sunflowermaids.com/wp-content/uploads/2016/10/Sunflower-Maids_340w.png
Sunflower Maids Team
2014-10-28 08:37:58
2014-10-28 00:40:38
Overland Park House Cleaning Tips: Use Coffee Grounds to Deodorize