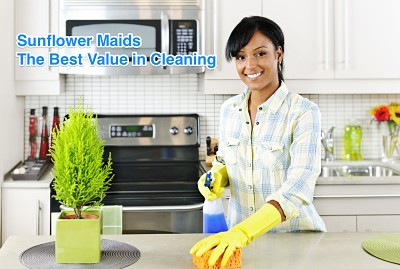 When you think value in a cleaning service, what comes to mind?
Quality cleaners?
Type of products?
Are the prompt and on time?
Are they efficient?
Are they trustworthy?
These are the things that we think about at Sunflower Maids in Overland Park, KS. And we know that they're important to you as well.
We're confident that we offer the best value in low cost cleaning services in the Kansas City Metro area. All of our cleaners are background checked, reference checked, interviewed in person, and performance track from clean to clean. This ensures that they are keeping customers satisfied and cleaning well.
You won't find another maid or cleaning service in the Overland Park area that offers this kind of value for $25/hr. Sure, you can hire someone that you don't know off of Craigslist. But most people don't want to absorb the risks involved. For example, most independent cleaners on Craigslist do not have their own insurance. What does this mean to you?
Well, if they break something in your home then you'll have to pay for it. Or – worse yet – if they have some kind of accident and get injured, they can sue you. You don't want these kinds of risks!
Another little known fact about hiring independent help, is that if you don't give them a 1099 form at the end of the year you're technically breaking the law. You're taking it upon yourself to hire an independent contractor for your own cleaning service, and are therefore responsible for these legal requirements.
Avoid these risks! Book a cleaner through Sunflower Maids in Overland Park, KS, where all of our maids pass a rigorous interview and background check process, and are fully insured and bonded.
We offer the best value in house cleaning services in Johnson County. Book today, and see how easy it is to get a great clean!
http://sunflowermaids.com/wp-content/uploads/2016/10/Sunflower-Maids_340w.png
0
0
Sunflower Maids Team
http://sunflowermaids.com/wp-content/uploads/2016/10/Sunflower-Maids_340w.png
Sunflower Maids Team
2014-10-19 19:40:18
2014-10-19 19:40:18
Best Value Cleaning Service in Overland Park, KS